If you were to ask those in the know, they'll tell you that the Microsoft Surface Go 4 is  pretty much a sure thing when Microsoft launches new devices at its upcoming "special Surface event" on September 21, along with the Surface Pro 10. 
While you should still take that with a grain of salt, it does seem like an obvious move for Microsoft. After all, the Microsoft Surface Go 3 did launch on September 22, 2021, and after its not-so-favorable reviews, it makes sense for the manufacturer to seek redemption.
The Microsoft Surface Go device has never really reached the heights of the best 2-in-1 laptops and best touchscreen laptops on the market, due mostly to the low-end components under the hood. However, 2020's Microsoft Surface Go 2 still proved to be a great affordable Windows 10 option for users who don't need a lot of power and appreciate having to save money on their laptop.
Sadly, its successor, the Microsoft Surface Go 3 just couldn't keep up with the competition due to its low power and short battery life. The Microsoft Surface Go 4 is, therefore, the perfect opportunity for Microsoft to prove that it is capable of making a 2-in-1 device that's both affordable and reliable, if not one of the best Windows tablets. And with Microsoft postponing the launch of its ARM-based Surface Go and rumors pointing to an Intel-powered model instead, it's looking promising for the somewhat cursed line.
Will a better and much-improved Surface Go show up at the event? More importantly, can it actually keep up with the rest of the offerings from other brands? We have to wait for Microsoft's event to know for sure, but if you're a fan of the line or curious about what's to come, we've got the details for you below.
Microsoft Surface Go 4: cut to the chase
What is it? The next Microsoft Surface Go device
When is it out? Possibly Q3 2023
What will it cost? May sit at a higher price point than its predecessor
Microsoft Surface Go 4: Price and release date
Both the Surface Go 2 and the Surface Go 3 started around the same price point, with the former sitting at $399 / £399 / AU$547 and the latter asking $399 / £369 / AU$629 for their respective base configurations. That puts this 2-in-1 in the budget market – a rare treat for hybrid laptops, which typically put a premium on their versatile form factor.
This time around, however, it's likely that the Surface Go line is going to sit at a higher price point. According to Windows Central, the Surface Go 4 might set you back around the $500 (about £500, AU$775) mark. That's because it's likely that "the company is omitting the 4GB RAM model from the lineup," a sensible move seeing as 8GB of memory is the threshold for laptops in this day and age.
Windows Central also asserts that the Surface Go 4 "will be announced on September 21, and begin shipping sometime in October." So those who've been holding off for two years to replace their old Surface Go won't have long to wait.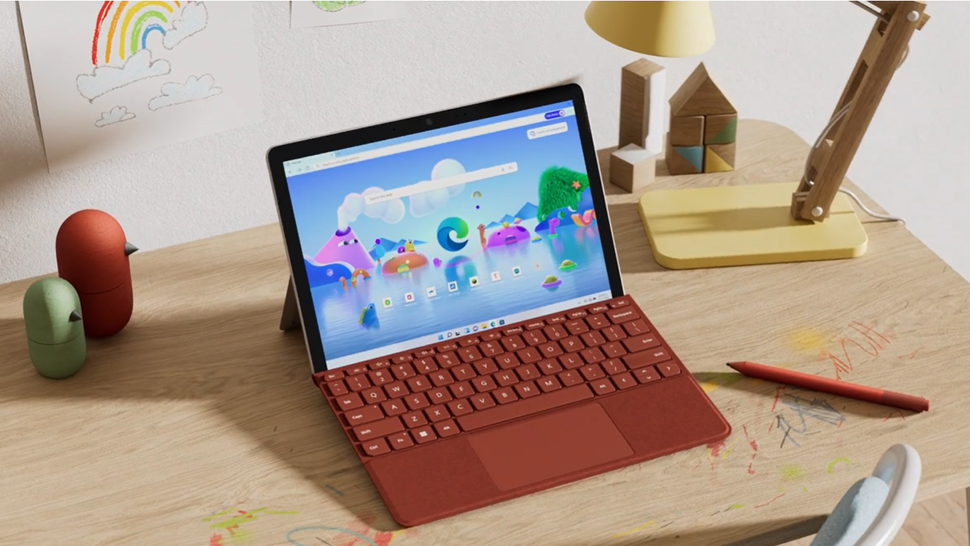 Microsoft Surface Go 4: Design
Despite the Surface Go 3 having less favorable reviews, mostly due to it being underpowered, it was praised for some of the design choices like a 1080p webcam (a big deal back in 2021), its very portable form factor, and a microSD card reader thrown in. And we'd love to see the Surface Go 4 inherit those features, which according to Windows Central is pretty much what is expected to happen.
However, we'd love to also see the Type Cover included in the box, especially if Microsoft is going to increase its price of entry. The accessory is what makes the Surface Go a laptop, instead of a mere Windows tablet, but at $129.99 / £124.99 / AU$199.95, it does add to the overall cost. And if Microsoft doesn't include it in the box this time, you're basically paying around $500 (about £500, AU$775) for a Windows 11 tablet.
Another thing we'd like to see is a more modern-looking screen. The Surface Go 3 has thick bezels, which not only made it feel outdated but also gave you considerably less screen real estate to work with. Hopefully, the Surface Go 4 will have nice thin bezels so that even if its overall dimensions remain the same, you're getting a bigger screen.
One promising thing Window Central has said is that Microsoft may make it easier to repair and replace its components: "The device will feature a replaceable battery, kickstand, display, and even motherboard." Also, like the rumored Surface Laptop Go 3, which may also make an appearance at the event, it might boast AI features such as Voice Clarity.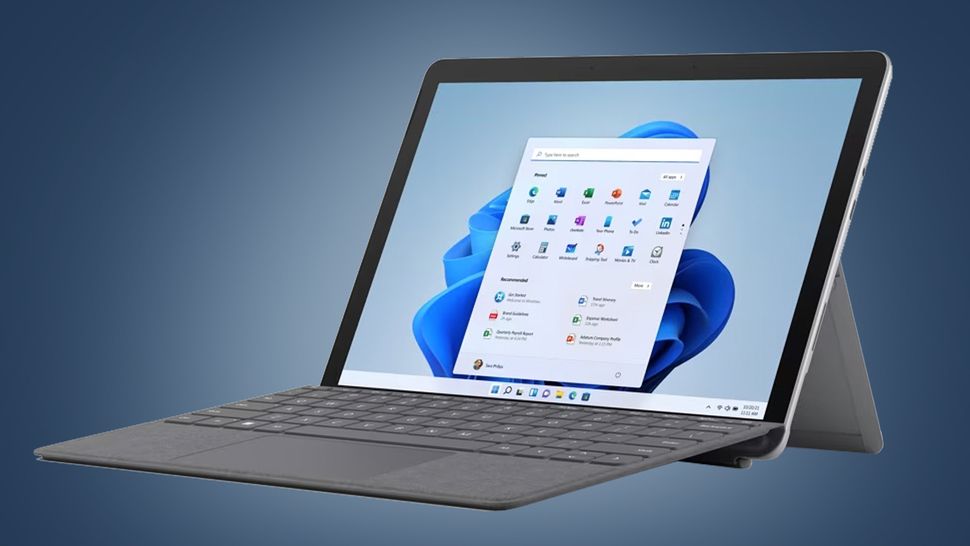 Microsoft Surface Go 4: Specs and performance
One big reason for the Surface Go 4 getting a price increase is that Microsoft is rumored to be phasing out its 4GB RAM devices, which means that the base configuration for this upcoming Surface Go will likely have 8GB of memory, as well as 128GB of storage. Android Authority also said that the device will be Intel N200-powered, which means that its base model will also be more capable than the Surface Go 3's top Intel Core i3-10100Y-powered configuration.
While there's nothing concrete at this point, we're really hoping that Microsoft improves the performance of the next installment to its 2-in-1 line. That's especially since one of the biggest complaints about it is how underpowered it is, even at its highest configuration. 
Another opportunity for change here is in the battery life. We only managed to squeeze out a little over six hours from the Surface Go 3 in our tests, which was embarrassing even in 2021 standards. And with many laptops and tablets these days offering at least 10 hours of juice, there's really no reason for the Surface Go 4 to exist if it can't keep up with the rest.
We'll share more information about the upcoming Surface Go 4 as soon as it lands on our desks, but with the Microsoft event just around the corner, you won't have long to wait to know more.
Today's best Microsoft Surface Go 3 deals